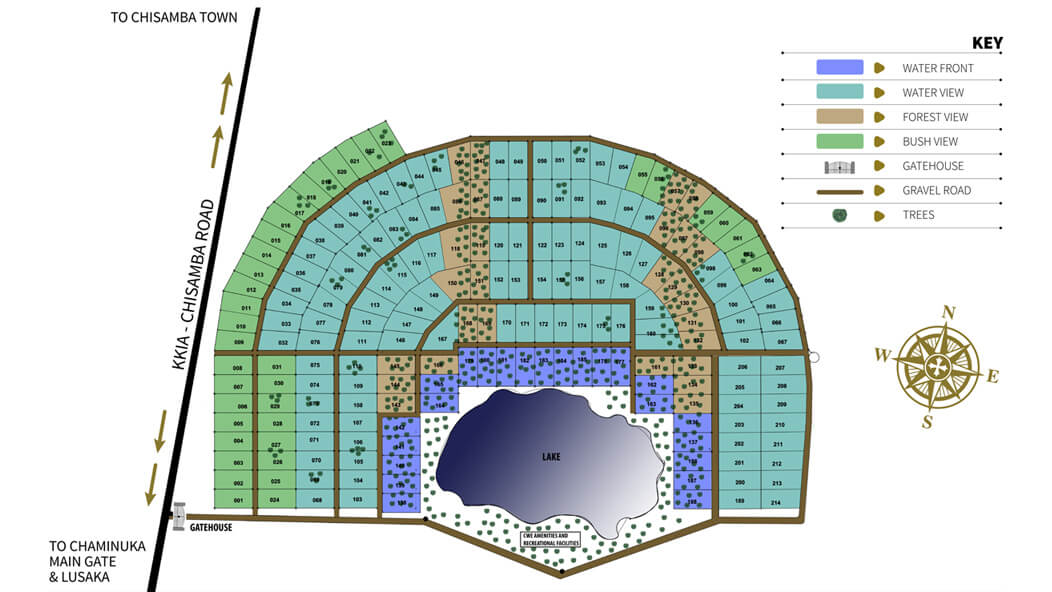 Chaminuka Wildlife Estate
Chaminuka Wildlife Estate
If you aspire to live an alternative and unique lifestyle, then this piece of paradise nestled alongside the only game park to be found in the city of Lusaka can offer you just that opportunity. After all, what could be more picturesque than a new home cradled within a game park, overlooking a beautiful lake sprinkled with 72 species of roaming wildlife and 300 species of birds?
The game park has been more than forty years in the making and is now a mature ecosystem that has been turned into an unprecedented location to live in and simply cannot be easily recreated. Chaminuka Wildlife Estates is undeniably set to become the forefront of the high-end Lusaka residential living experience.
About the Plots
This high-end development is being delivered in three stages and will contain a total of 250 residential plots. There are currently three home designs that have been pre-approved and offer a rustic build offset with modern interior designs. Architecturally designed so as to take advantage of the game viewing potential, one of the style of houses positions the living area on the first floor to exploit the views you can have of the game park.
Phase one of the build has homes that encircle the lake and has already sold around 80% of the plots. It is an ideal purchase for those looking to buy a home for weekend, holiday breaks, or seasonal use. These homes can be managed by Chaminuka Estates on your behalf during the times that they are empty so that they can be included as a potential "villa for rent" for guests that stay at the adjacent Chaminuka Lodge. This way when you're not using your home it still offers you a rental return, but is yours to use on the dates you choose.
Amenities in Place
All homes, will be serviced with electricity and water. The estate, on completion, will be managed by the established home owners association which will vote in a body corporate to manage the homes estate. This management company will be responsible for additional aspects such as security, communal areas and refuse collection.
With the homes located within the 10,000 acre game park, a connection with natural living is essential to maintain this exquisite ecosystem. However this doesn't preclude you from enjoying the finer amenities in life.
What Makes Chaminuka Wildlife Estates a good purchase:
With Chaminuka being such a well-established brand, this real estate development provides an investment opportunity that is special and rarely found in this country. Not only does Chaminuka Wildlife Estate allow investors to buy into the Chaminuka lifestyle and brand, it also offers a high value appreciation of the property.
There is however, nothing to prevent you enjoying a secluded lifestyle while still enjoying the modern life benefits to be found within a short drive from the estate. Between Lusaka town and Chaminuka you have access to the Arcades shopping mall, a golf course and many restaurants and bars. The Kenneth Kaunda International Airport has recently seen a $400million regeneration investment and its surrounding area is now considered a "free economic zone" set to be developed over the coming years. Its clear that such a unique home, located near areas that are rapidly being invested in offers a great investment opportunity.
Price Range
Bush view – $50,000
Forest View – $60,000
Chaminuka Wildlife Estates is quite simply an unparalleled opportunity to experience country living within a city.
The prices are indicative of and include; top level gravel roads, membership to Chaminuka's nature reserve, access to all public features of the estate and a choice of one of four architectural plans.
The build cost for the homes starts from $140,000 for the single story cottages. The double story homes begin from $250,000. The home-build can be carried out as a self-build, however, the estate does offer a project build management service which has proved popular for those buying plots but still residing in the diaspora.
Payment plans are also available with an initial twenty percent (20%) deposit and then flexible payment plans between 6 months up-to 60 months. Diaspora Connect can help you negotiate a payment plan suited to your budget.
Get more information about Chaminuka Wildlife Estate
or
Contact us for a Property Consultation
Who would be the ideal buyer for Chaminuka Wildlife Estates:
Due to the unique nature of this development, it's proving to be popular with many of the upwardly mobile working Zambian professionals as a weekend home. Attractive to doctors, bankers, lawyers, accountants and entrepreneurs, it's also an attractive proposition for those seeking early retirement in a peaceful tranquil location.